Hawk Magnum Shader (10) 9M
Hawk Magnum Shader (10) 9M

Cheyenne Cartridge gives you artistic freedom without any limits. This is one-way needle cartridge that cones in a sterile package and has a hygiene membrane that will keep and ink or bodily fluids away from the machine and hand piece. By using a Cheyenne System, you will be guaranteed precision and ease of comfort during use. They also mean less irritation for the client and less interruption to the workflow when changing needles. All you have to do is simply unwrap, insert and start using. There is no handling of the bare needles required therefore reducing the risk of infection.

Each Cheyenne tattoo cartridge is manually tested by experts meaning that you can be confident in the safeness and quality. Choose from a range of shaders, liners, flats, magnums and more.
The one-way needle cartridges come in a sterile package and have a hygiene membrane that keeps ink and body fluids away from the machine and hand piece. The punctures are clean, precise, and easy on the client's skin. HAWK manufacturer MT.DERM has improved the needle cartridges especially for the HAWK drives, making them even more precise. The benefit for tattoo artists: their work has become a bit easier and more comfortable. And their clients will feel less pain and heal faster. Exchanging the needles doesn't interrupt the workflow. Unwrap, insert, go. And when it's time for another cartridge: click off and dispose. The needle tip disappears inside the safety module, so there's no handling of bare used needles and less infection hazard.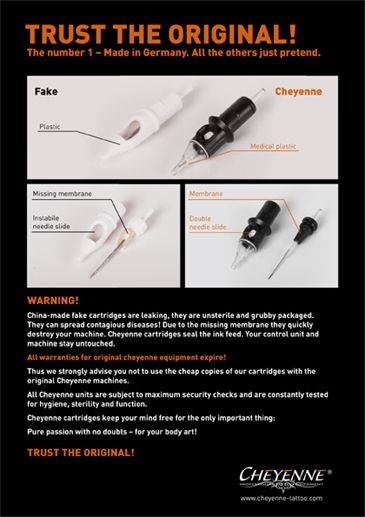 More Information

| | |
| --- | --- |
| Colour | Black |